Old Auburn Rd Complete Streets Plan
Old Auburn Rd Complete Streets Plan
Community Open House on 12/17!
Join us for the Old Auburn Road Complete Streets Plan Community Open House #2:
Tuesday, December 17 from 4:30 PM to 6:30 PM Holy Family Catholic Church, St. Joseph's Hall 7817 Old Auburn Road, Citrus Heights
Stop by anytime to learn more about potential corridor improvements and provide feedback on the temporary road improvements that were on Old Auburn Road for a two week period during October. A brief presentation will begin at 5:00 PM. Read More
Project Description:
The City of Citrus Heights has identified Old Auburn Road as an important corridor for all types of transportation.
Currently, community concerns about Old Auburn Road include pedestrian and bicyclist safety, high vehicle speeds, and a lack of pedestrian crossings, bicycle lanes, sidewalks, and lighting.
The Old Auburn Road Complete Streets Plan will evaluate current transportation conditions on Old Auburn Road between Auburn Boulevard and Garry Oak Drive and identify how to improve safety on the road for people driving, riding bicycles, walking, and taking transit.
This project is a major step towards making Old Auburn Road a "complete street."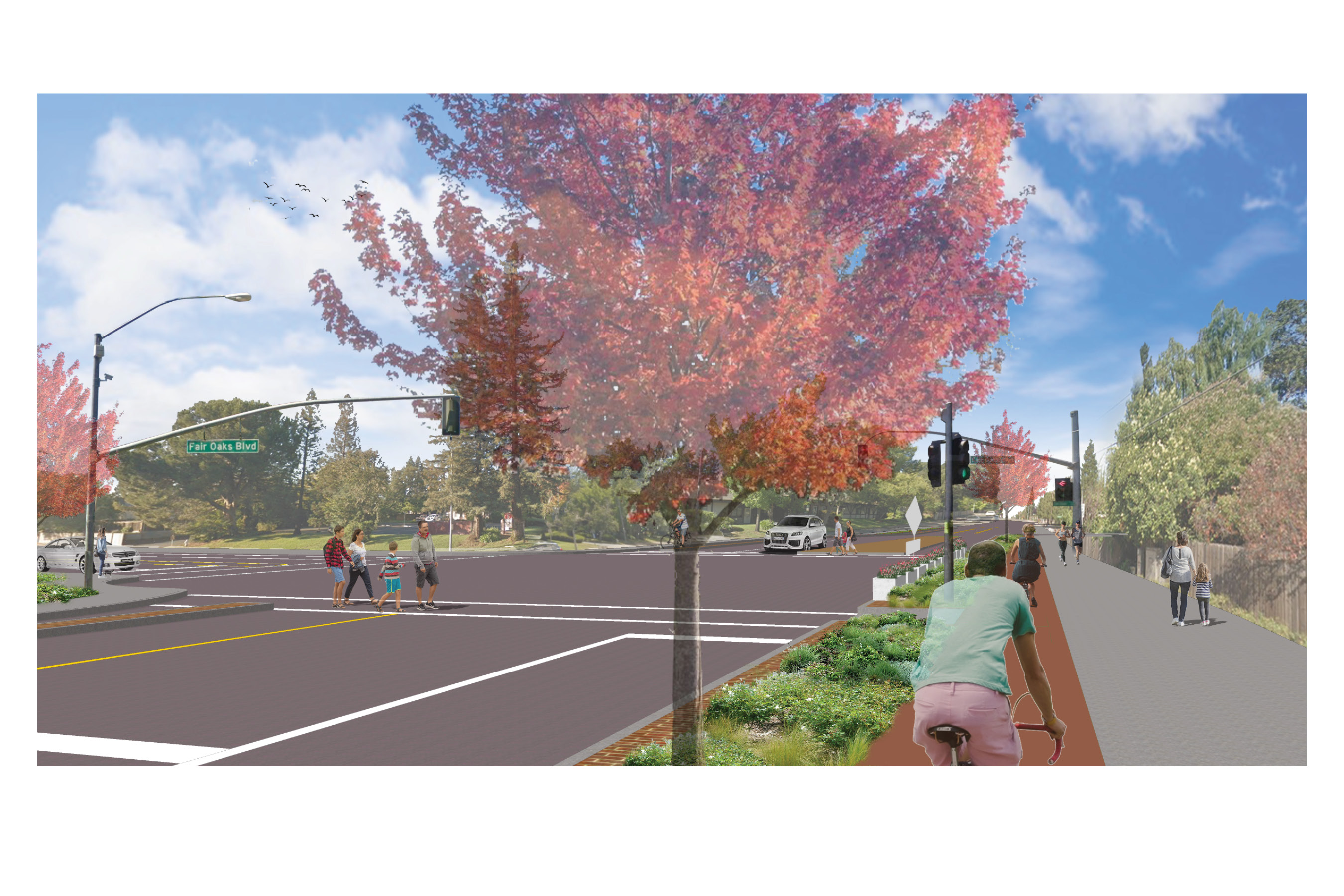 A "complete street" is a transportation design and operation philosophy that intends streets to be safe, convenient and comfortable for all users, regardless of age, ability, or how one feels while traveling. Complete streets can include, but are not limited to, sidewalks, bike lanes, bus pull-outs, and traffic calming measures such as center medians and street trees.

When concluded, the Old Auburn Road Complete Streets Plan will be used to seek funding for final design and construction of the improvements.
Project Benefits:
The city has been diligently working over the past several years to increase walkability and provide improvements for pedestrians and cyclists citywide. The Old Auburn Road Complete Streets Plan aims to provide increased transportation choices and safe connections to key destinations for residents.
Project Status:
The project team is currently developing concepts and reviewing all comments received during Community Workshop #1 and the roadway demonstration project. Community Workshop #2 will be scheduled within the next few months to discuss the data, information, alternatives, and potential roadway treatments. Stay Tuned!!
Contact:
General Services Department (916) 727-4770.
Questions? Email us at OldAuburnCS@citrusheights.net










Project Location: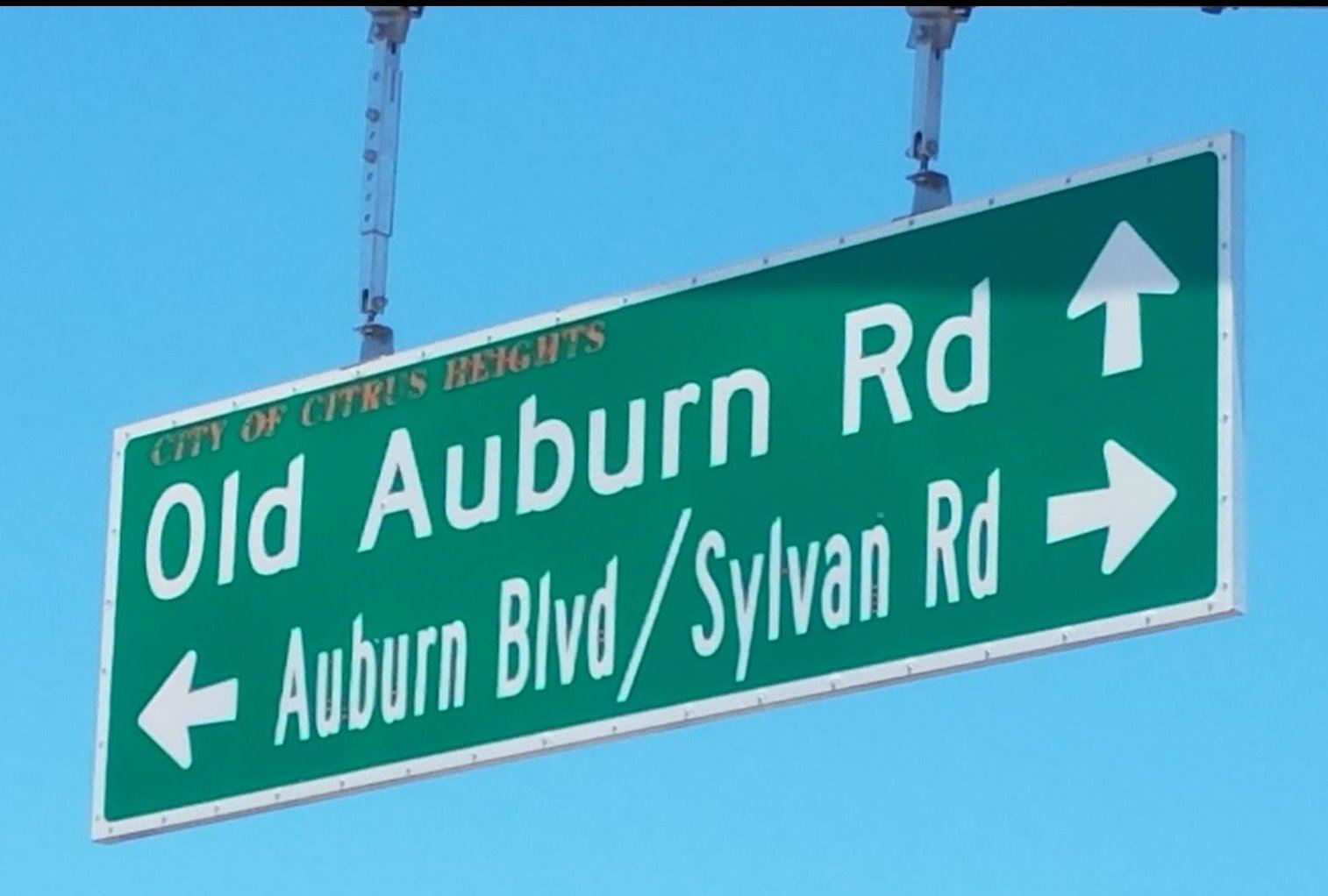 Community Outreach:
The Old Auburn Road Complete Streets Plan will be informed by technical analysis, best practices in transportation planning and design, and community input.
Want to get involved?
Sign-up for project updates! Click here to add your name to the project email notification list!
Old Auburn Road Temporary Safety Improvements and Community Safety Fair
Thank you to all who joined us for the Community Safety Fair on October 19, 2019! This kick-off and celebration for the week long temporary road changes on Old Auburn Road included a bike rodeo, helmet fittings, a pedestrian safety class, and free bicycle helmets. There were SmaRT Ride bus tours, opportunities to see a SacMetro Fire Engine, and visits from the Citrus Heights Police Department.
The city traffic engineer, other city staff and design consultants were also available to answer questions and receive feedback regarding the temporary road changes and the overall Old Auburn Road Complete Streets Plan Project.
The temporary roadway changes (road diet demonstration) was in place from October 19 - 27 to showcase a potential alternative including lane reductions, and protected bike lanes.
Click here to see the exhibit boards from the event.
Community Workshop #1
Thank you to all who joined us for Community Workshop #1.
Click here to see the Old Auburn Road Complete Streets Community Workshop #1 Event Summary.
Below are copies of the workshop material and exhibits.
Informational Flier: English Spanish Russian
Exhibit Boards:
Bicycle & Pedestrian Facilities Board
Intersection Collision Rankings Board
Who is Using Old Auburn Road Board