Encroachment Permits
Last Content Update:
Types of Encroachment Permits
Encroachment permits are required any time work is being performed in or will affect the public right-of-way, streets and sidewalks.
Annual or Blanket Permits: Applies to Utility companies and their contractors for emergency and routine maintenance work only. Permits are renewed annually and expire December 31. Requires a draw down deposit based on volume of work. See Master Fee Schedule.
Stand Alone Permits: Applies to large scale utility upgrades and infrastructure improvements by utility companies and their approved contractors. Applies to commercial and residential developments for frontage improvements and other construction projects. Fees vary – see Master Fee Schedule for more information.
Minor Permits: Required for minor work or affecting the right-of-way and resulting in sidewalk or road closures, such as minor tree work.
POD/Dumpster/Storage Containers (Minor Permit):
RESIDENTIAL ONLY. Not applicable to private streets or mobile home parks.
Applies to PODs, dumpsters or containers placed in the right-of-way. Containers that can be placed on private property driveways without impacting the right-of-way, do not require a permit. SEE APPLICATION for more information.
Permit Fees
Fees vary depending on the type of permit needed and how extensive the work is. The fees are collected solely to cover the cost of staff administrative and inspection time associated with the specific permit. Master Fee Schedule
Applications
Traffic control plans (if applicable) and conceptual plans must be submitted with each encroachment permit application, along with proof of insurance. To apply for a permit, please complete the Encroachment Permit Application (PDF) and return to the General Services Department via email to Encroachment Permits, or return it to us in person or by mail.

Standard time frames for review and approval can take up to 3 weeks depending on the volume of applications. If a permit or TCP is rejected, a request to Revise and Resubmit will be emailed to the applicant. Once a revised drawing or resubmission is received, it may take up to 10 business days for review and approval.
Locations on the edge of city boundaries may require permits from the adjacent jurisdictions (Sacramento County, Placer County, Roseville). While this requirement may be noted on the TCP or approved permit, it is the responsibility of the applicant to obtain the permit in that jurisdiction and to provide the city with a copy of the permit.

For contractors or utilities with active permits: job lists or cut sheets and associated traffic control plans can be entered onto our Work Request Form (PDF) and submitted via email to Encroachment Permits.
Restoration Requirements
No pavement cuts or trenches are allowed in pavement less than three (3) years old or with a Pavement Condition Index (PCI) > or EQUAL to 80, unless otherwise approved by City Engineer in writing.
Slurry seal - on streets with a PCI value > or EQUAL to 50 and less than 80.
a. Contractor shall slurry seal streets curb to curb for the length of the trench.
b. When 3 or more patches fall within 100', contractor shall slurry seal curb to curb and 5' past the other limits of the patchwork.
c. Transverse trenches – slurry seal full width of trench plus 10' on either side (25' minimum).
d. On roadways with existing striping, a striping plan shall be submitted to the City Engineer/City Traffic Engineer for review/approval prior to issuance of encroachment permit (City will provide as-built drawings upon request, if available).
For more information on the Pavement Maintenance Program or for PDF copy of the Pavement Condition Index (PCI) click the links.
***HOLIDAY MORATORIUM – Arterial Streets***
To better control the holiday traffic and increase driver and pedestrian safety through the holiday season, the City of Citrus Heights limits construction in the right-of-way on major streets.
The City's Construction Moratorium will be in effect from 5:00 pm on the Friday before Thanksgiving until the first business day in January at 8 am. The Moratorium applies to all construction and utility work and all oversize loads requiring a transportation permit.
The streets included in this moratorium are as follows:
| | | |
| --- | --- | --- |
| Antelope Road | Greenback Lane | Sunrise Boulevard |
| Auburn Boulevard | Madison Avenue | Sylvan Road |
| Dewey Drive | Old Auburn Road | Van Maren Lane |
| Fair Oaks Boulevard | San Juan Avenue | |
***Residential & Collector Streets - Holiday Moratorium***

BEGINS 5:00 PM on the Friday before Christmas.
ENDS 8:00 AM on first business day of January.
Applies to all routine construction and utility work on residential streets during the week of Christmas and New Year.
Emergency Work Only
Emergency work is defined as major power outages, downed power lines or cables, ruptured water mains, gas leaks, or other situations seriously impacting the health and safety of the community. No routine work will be permitted. *Call 916-727-4770 for more information.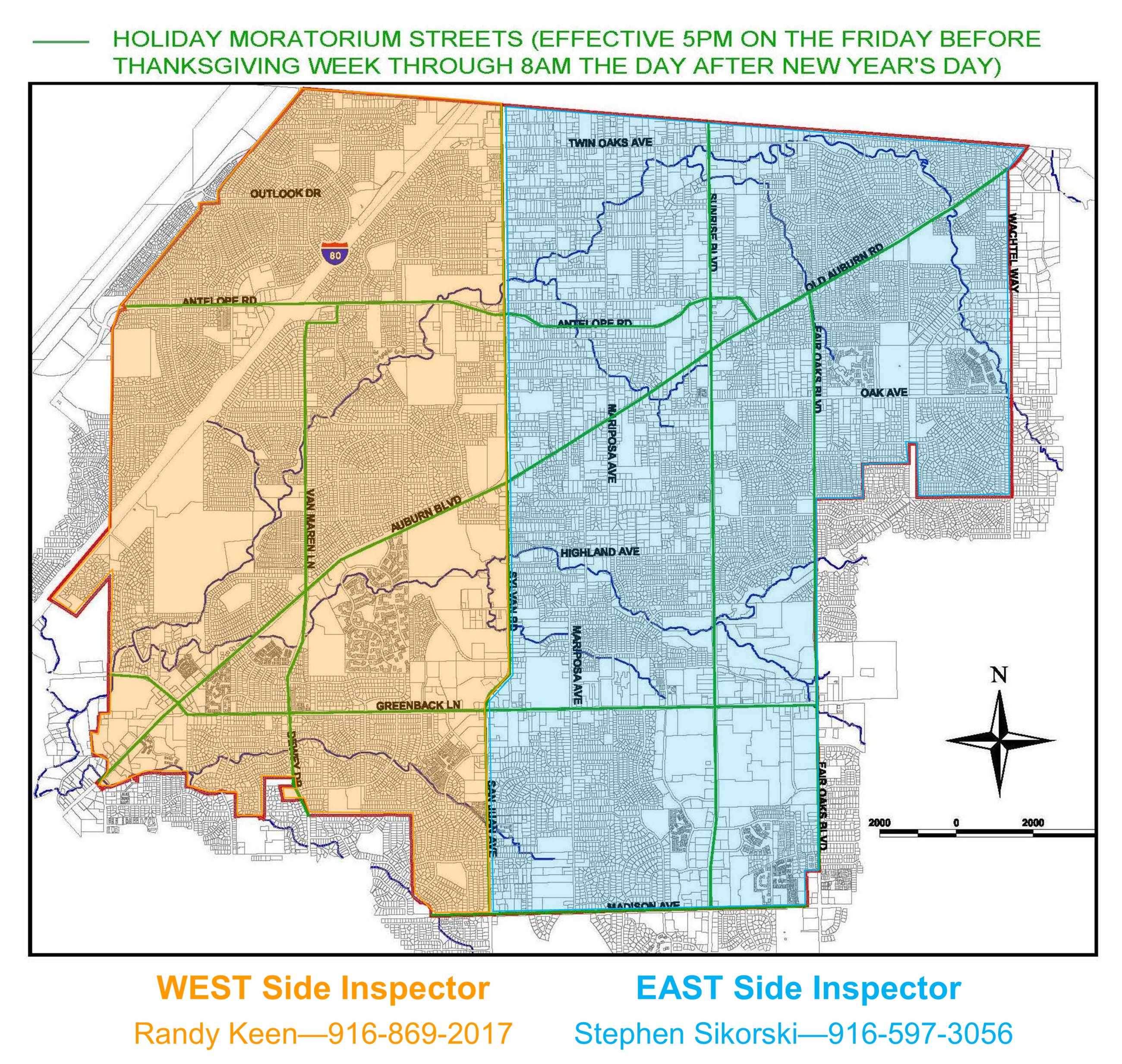 For more information, contact the General Services Dept. at (916) 727-4770.
Page last updated June 5, 2023.