Sunrise Mall Specific Plan
Sunrise Mall Specific Plan
Sunrise Tomorrow Specific Plan Unanimously Adopted by Citrus Heights City Council
City staff worked with redevelopment experts, mall owners, stakeholders, the community, and elected officials to create a Specific Plan that allows mixed use development at the 100-acre Sunrise Mall site
On November 10, 2021, Citrus Heights City Council unanimously voted in favor of adopting the Sunrise Tomorrow Specific Plan and its associated Environmental Impact Report, rezoning, and General Plan amendment.
"Sunrise Mall has long been in decline, due to changing retail trends," said Chris Boyd, Interim City Manager. "We know our community wants to see the site brought back to its former glory, and the adoption of our Specific Plan is a huge step in that process. Unlocking the 100-acre mall property for future mixed-use development, as opposed to keeping the site all retail, means mall owners now have the opportunity to densify, diversify, and breathe new life into the heart of our City."

Citrus Heights is a community that is 98 percent built out, meaning there are few opportunities for new development. Working with mall owners, thousands of community members, experts in the field, and elected officials, City staff and the Gensler consulting team honed a vision for the site and then drafted a data-driven plan for realizing the collective vision. Rezoning the site to encourage revitalization also involved creating and certifying an in depth Environmental Impact Report (over 4,000 pages), reporting and approving California Environmental Quality Act (CEQA) findings, and adopting a Mitigation Monitoring and Reporting Program.
The majority owner at Sunrise Mall, Namdar Realty Group, was among the many to submit a letter of support in favor of the City's Specific Plan. "We greatly appreciate you and your staff's diligent efforts to be collaborative in establishing the vision for the future of Sunrise Mall," said Chief Executive Officer Igal Namdar in his letter. "We look forward to advancing our plans for the site."

The Sunrise Tomorrow Specific Plan:
Introduces new uses to the Sunrise Mall site, like zoning for a variety of residential options, entertainment, and more.
Triples the development allowed on the site, creating an opportunity for the community to diversify its economy, attract quality industry sectors like medical and tech, and more.
Streamlines future development review, so that projects aligned with the Sunrise Tomorrow vision can be expedited, saving developers time and money.
Allows flexibility for redevelopment, empowering responsiveness to changes in the market.
Fulfills CEQA requirements and mitigates development risk, which is one of the most impactful ways local government can stimulate redevelopment.
Aligns market demand with community vision, building grassroots, local support in favor of re-imagining the Sunrise Mall site.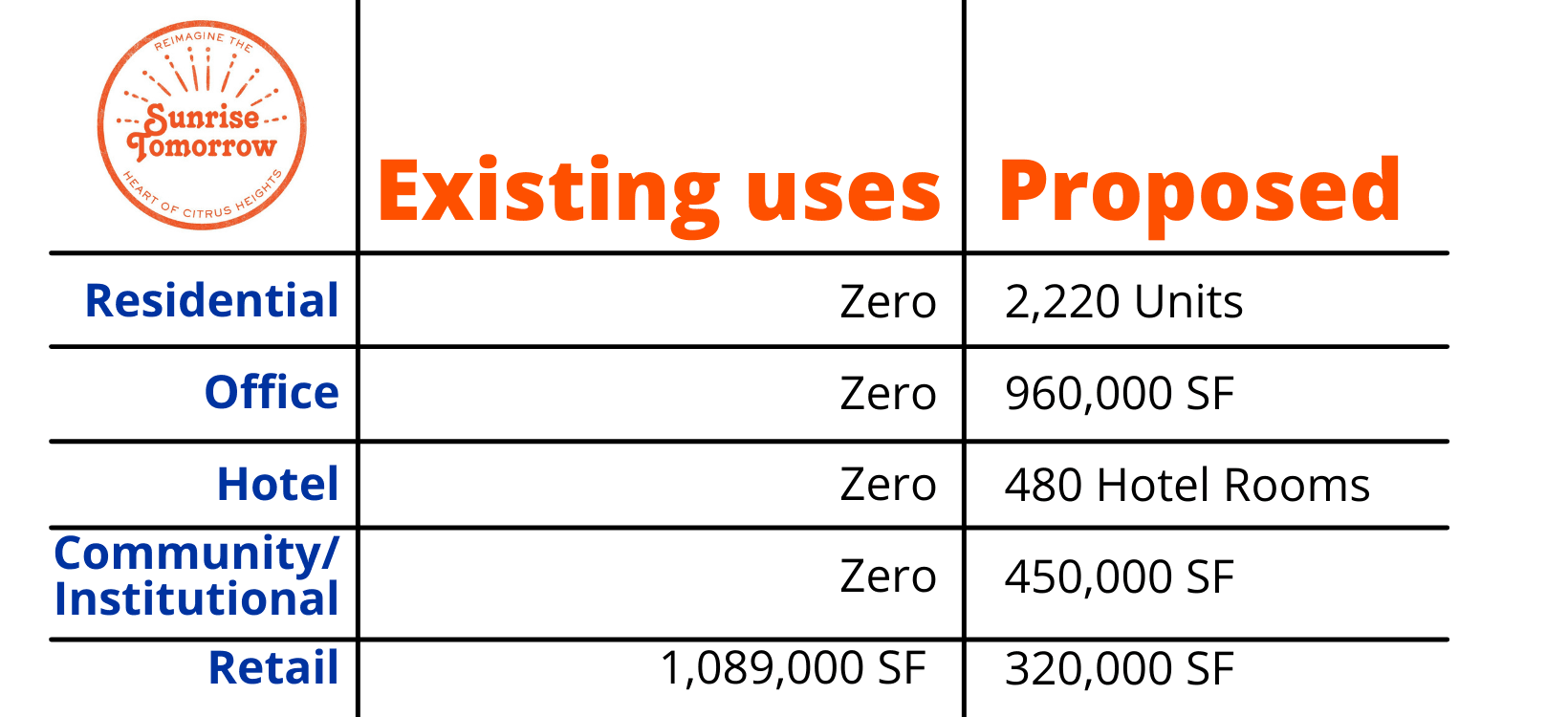 Note: The units of housing, office, hotel, community/institutional, and retail proposed in the Sunrise Tomorrow Specific Plan reflect maximum units permitted. Actual development at the site will vary.
"Our specific plan lays the groundwork for transforming the Sunrise Mall site into a vibrant mixed-used community creating a destination for our residents to live, shop, work, and play," said Boyd. "And while the plan is momentous in that right alone, I also know that this project has the potential to serve as a national case study in how local government, when armed with motivated staff and an engaged community, can influence real, meaningful change when it comes to economic stewardship."

To learn more about the work that went into developing the Sunrise Tomorrow Specific Plan, visit SunriseTomorrow.net.
What does this mean for the Sunrise Mall?
The Sunrise Mall will remain open through redevelopment, which will be completed in phases, likely starting with converting the surplus parking. The City encourages the community to continue to shop and attend events at the Sunrise Mall. The Specific Plan implementation is flexible and incremental. Sunrise Mall will continue to operate, but if/when it cannot any longer, this plan will serve as a toolbox for accelerated revitalization.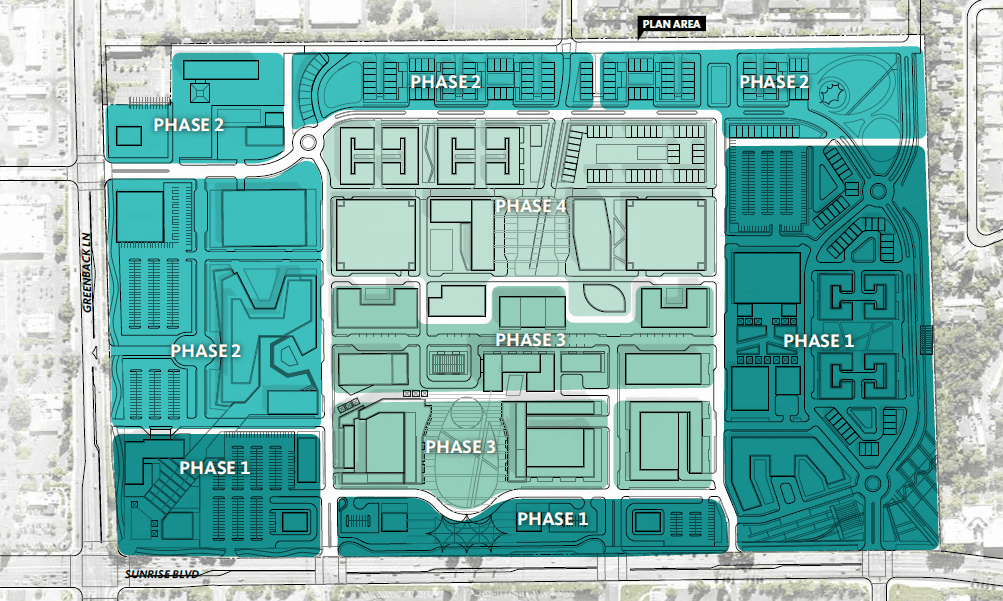 Phase 1: (Ready Now) Redevelopment of former Sears as a Dining Entertainment District, Retail, Limited-Service Hotel, Residential, and Open Space.
Phase 2: (Employment Anchor) Redevelopment of Macy's Men & Home as Creative Office Campus, additional Retail and Dining, Extended Stay Hotel, Residential, and Neighborhood Park.
Phase 3: (Mixed-Use Main Street) Redevelopment of Sunrise Mall as mixed-use Main Street with Retail, Dining, Office, Residential, Full-Service Hotel, and Central Open Space.
Phase 4: (Longtime Opportunities) Redevelopment of JCPenney and Macy's Women as mixed-use district with Office, Retail, Open Space, and Residential.
What will the Sunrise Mall site look like in the future?
Now that the Sunrise Tomorrow Specific Plan has been adopted, mall owners may begin redeveloping their properties in alignment with the plan's new uses and zoning. The Specific Plan was guided by "Five Big Ideas," that reflect feedback from the community and stakeholders: Community & Regional Destination, Green Network, Streets for People, Livable Neighborhoods, and Economic Engine.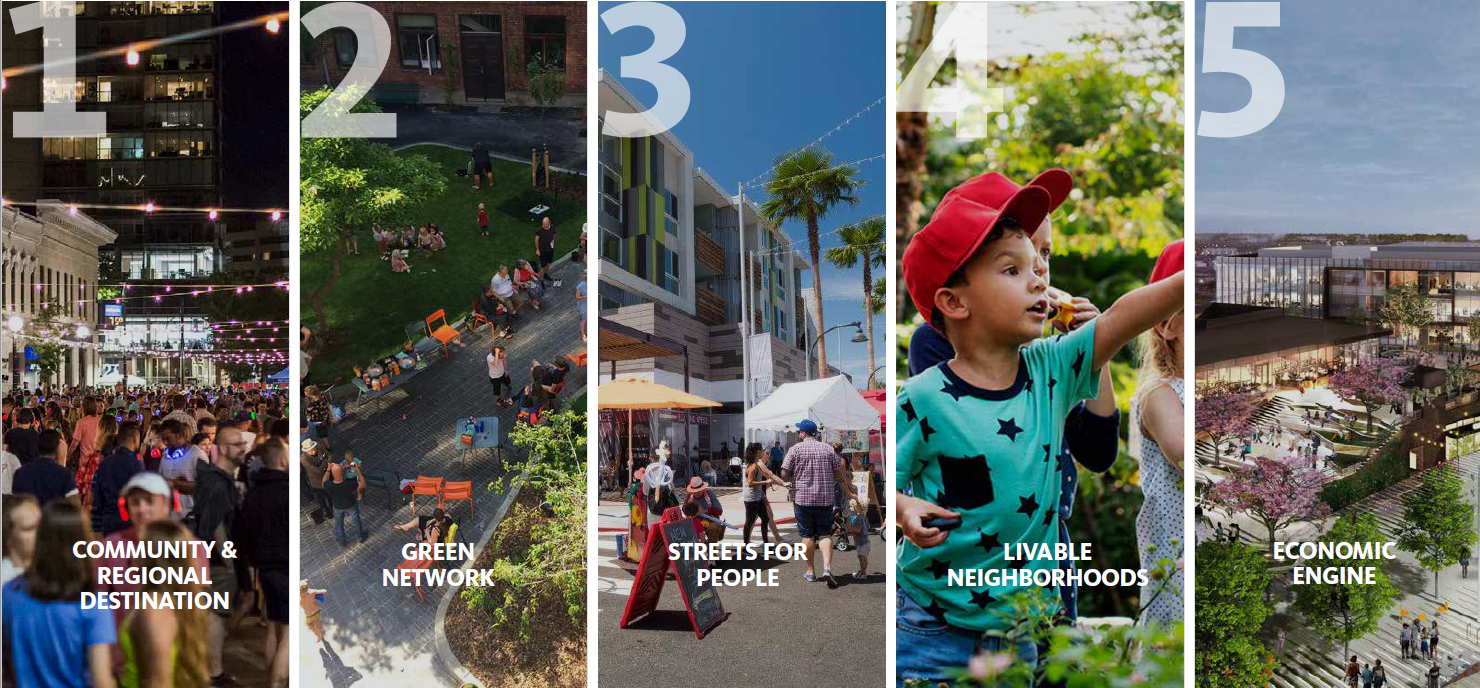 When paired with in depth research and data around the types of development that are realistic for the Citrus Heights market, the Five Big Ideas evolved into a site plan, which staff refer to as a "21st Century Main Street" concept. The concept includes:
A walkable "main street" through the center of the property featuring dining, retail, and entertainment.
New employment anchors, solidifying the site as an employment hub for the region.
A new town square for Citrus Heights, nick-named "Sunrise Commons," with space for community events year round.
Entertainment anchors to create a community and regional destination with family oriented entertainment options.
Hotels providing full-service, boutique, and extended-stay hotels to serve a range of travelers.
Housing with connected neighborhoods that provide a variety of choices and amenities for high quality of life.
Open space featuring a network of parks, plazas, and streets that are safe, connected, green, and healthy.
A transit center designed to minimize car use, with streets and paths that make it easy to get around by bike or on foot.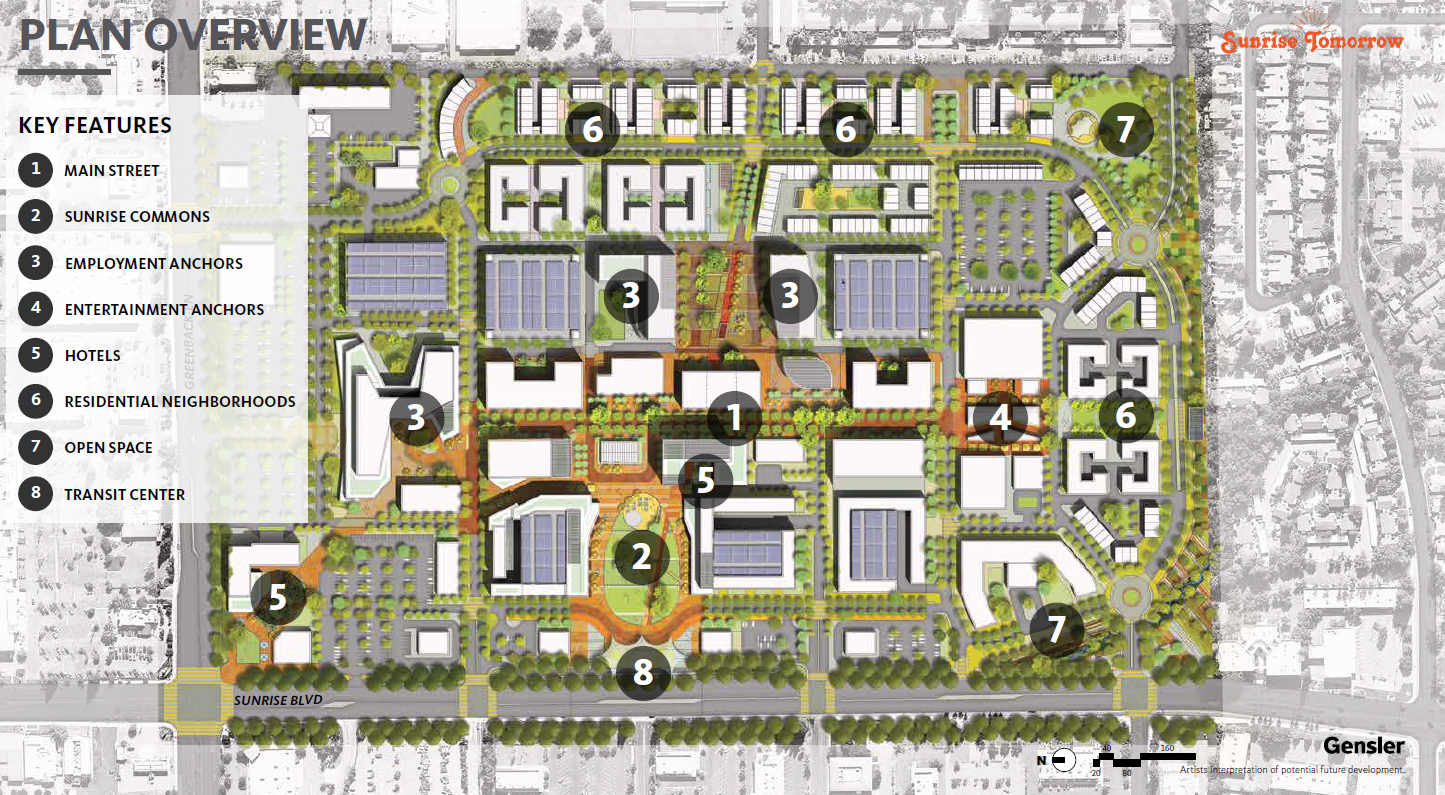 Again, redevelopment of the site will be completed in phases. Now that the Sunrise Tomorrow Specific Plan has been adopted, staff will continue their work to catalyze development aligned with the plan. This will include promoting development opportunities, working closely with mall owners and potential mixed-use developers, and more.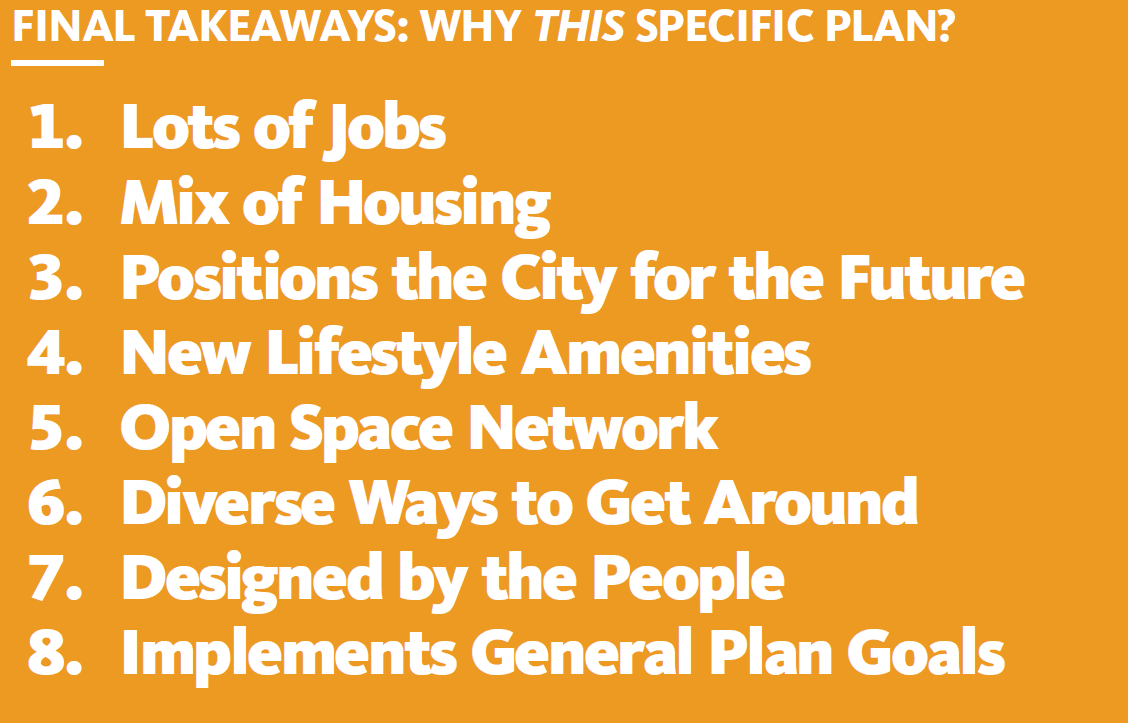 To learn more about Sunrise Tomorrow…
Visit sunrisetomorrow.net to learn more about the community outreach behind the Sunrise Mall Specific Plan.