Arcade-Cripple Creek Trail Project (formerly known as the Electric Greenway Trail Project)
Project Description:
The city will soon construct a 2.9 mile long multi-use trail between Sunrise Boulevard (near Arcade Creek Park Preserve) and Wachtel Way that will largely follow an existing Sacramento Municipal Utility District (SMUD) electric corridor easement. The project is located in the city and unincorporated Orangevale, and connects several neighborhoods to seven parks, several schools and the Sunrise MarketPlace. In addition to a paved multi-use trail, this Project also includes:
• A new signalized crossing of Fair Oaks Boulevard
• Pathway lighting
• Sidewalk, curb and gutter along a segment of Oak Avenue
• Drainage improvements
• Traffic signal modifications, and
• Landscaping
Project Funding:
The Arcade-Cripple Creek Trail Project is funded primarily by a $6.2 million Caltrans Active Transportation Program grant (ATP grant). The money from these grants can only be used for projects that increase active transportation, like walking and biking.
Click the link below to see our flyer with more information!
Project Location: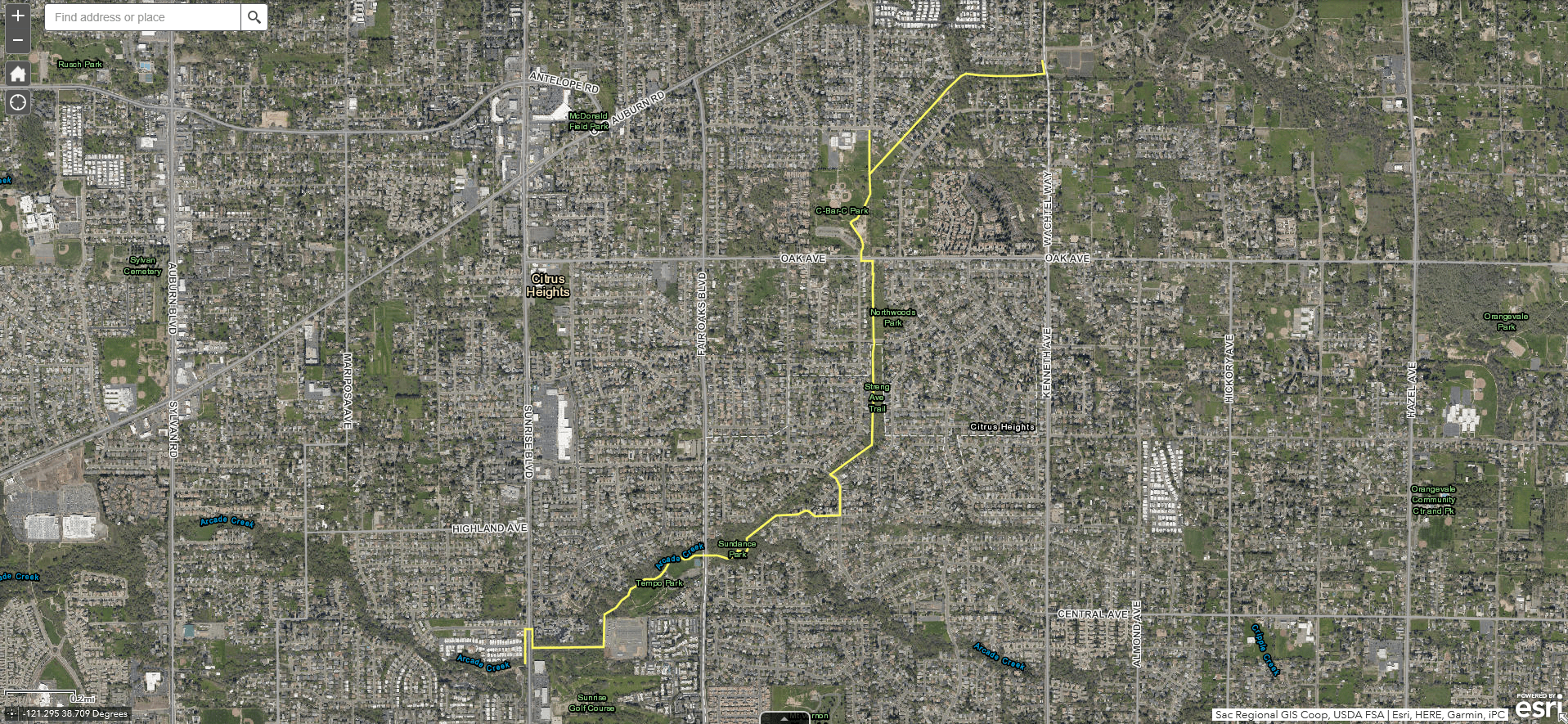 Project Status:
The project is currently in the final design and right-of-way phases. The city has contracted with a consulting firm, GHD, Inc., to lead the design of the project including the environmental clearance, and right-of-way phases.
The project is currently on target to complete design in Spring 2021. Construction is anticipated to begin in Spring/Summer 2021.
Trail Naming:
On November 12, 2020, the City Council selected the name Arcade-Cripple Creek Trail as the name for the trail. A Naming Review Committee comprised of City staff and community partners had reviewed submissions from the community, and presented the top names to the council. Thank you to everyone who participated!
Sunrise Parks & Recreation District will review the Regional Park name suggestions and announce a winner.
Environmental Review
The Trail Project has undergone environmental analysis as required by the California Environmental Quality Act (CEQA). This analysis evaluates the potential for environmental impacts in numerous categories. On May 1, 2019 the city released a Notice of Intent to adopt a Mitigated Negative Declaration (MND) for the Project. Written comments on the proposed MND were accepted from May 1 though May 31, 2019.
The revised Mitigated Negative Declaration was approved at the City Council public hearing on June 27, 2019 at 7 PM at the City Council Chambers. The staff report with additional information is available here.
View the documents by clicking below.
Notice of Intent and Notice of Public Hearing
CEQA Initial Study/Proposed Mitigated Negative Declaration
Revised Mitigated Negative Declaration (Updated June 27, 2019)
Project Partners:
This project will install facilities within seven parks owned and maintained by Sunrise Recreation & Park District and Orangevale Recreation & Park District.
Contact: General Services Department, (916) 727-4770 or ElectricGreenway@citrusheights.net
Community Engagement
On Tuesday, January 8, 2019, and Tuesday, May 21, 2019, the City of Citrus Heights hosted informational Open House Events for the City-Wide Trail Project at the Sunrise Tech Center Multi-Purpose Room, located at 7322 Sunrise Blvd, Citrus Heights.
Use the links below to see the presentation materials from the Open House.
Project Fact Sheet: English Spanish Russian
Trail Alignment Exhibits: Page 1 Page 2 Page 3 Page 4 Page 5 Page 6
Photo Exhibits: Pages 1 - 2 Pages 3 - 4
Park Overview Exhibits: Tempo Park Sundance Natural Area Streng Ave Open Space
Northwoods Park C-Bar-C Park-A C-Bar-C Park-B Woodside Oaks Open Space
Event Summary for 01/08/19 Open House Event
Event Summary for 05/21/19 Open House Event
Virtual Community Workshop
In addition to the Community Open House Events, the City of Citrus Heights hosted a Virtual Community Workshop from May 21, 2019 to June 4, 2019 to engage with the public about the project and get input from members of the community who may not have attended one of the open house events. More than 120 members of the community participated. Click here to see the summary of the Virtual Community Workshop, including graphs of selections and comments from participants.
Page last updated October 13, 2020.