Greenback Lane Complete Streets
Greenback Lane Complete Streets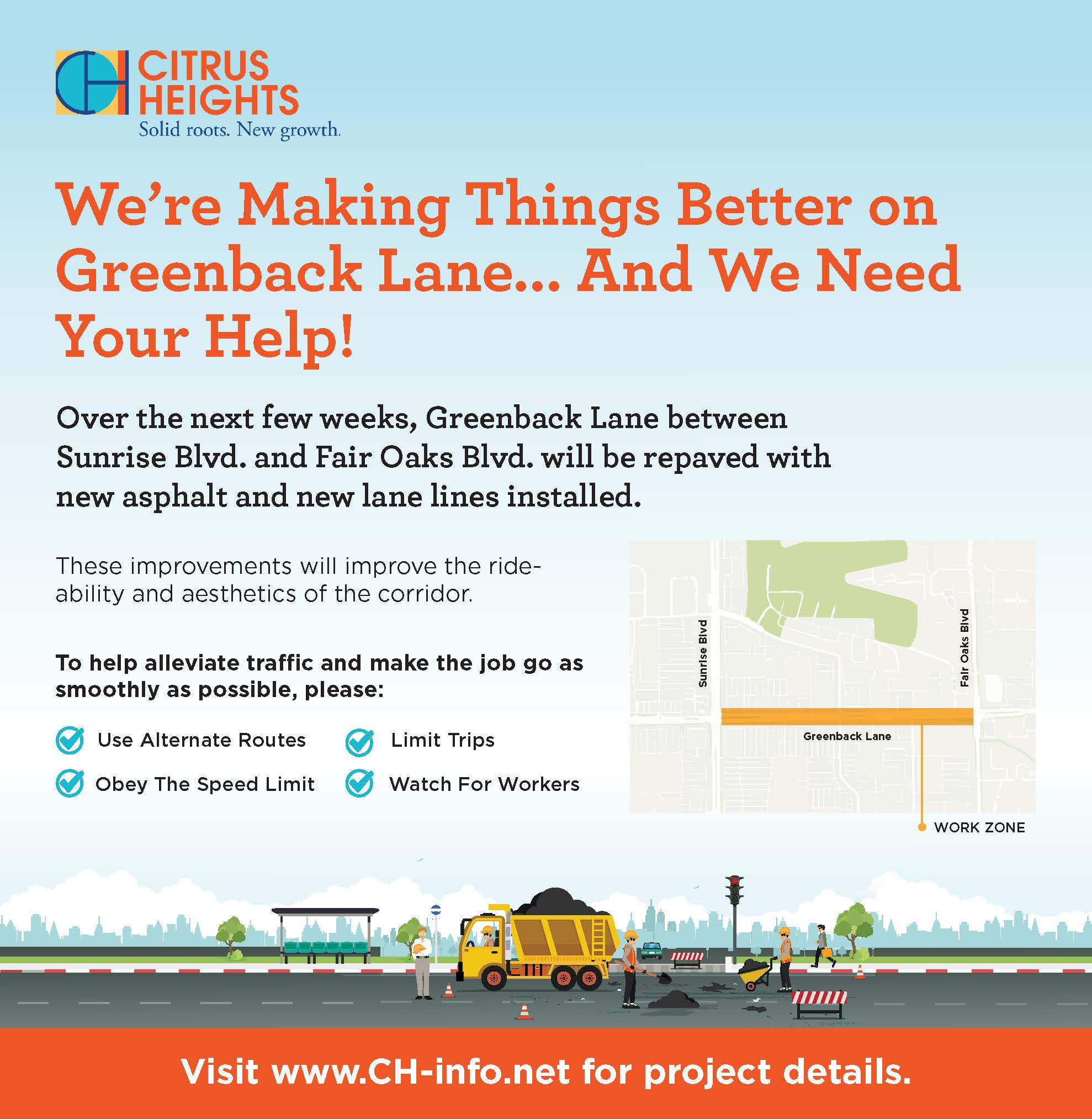 General Services Department




Physical Address

6360 Fountain Square Drive

Citrus Heights

,

CA

95621




Phone: 916-727-4770

Fax: 916-727-1454



Project Description:
The Greenback Lane Complete Streets Improvements Project will rehabilitate this major arterial corridor between Sunrise Boulevard and Fair Oaks Boulevard. The goal is to enhance pedestrian and bicycle mobility, improve traffic flow and improve the rideability and aesthetics of the corridor.
The project will encompass the following improvements:
Roadway resurfacing for smooth driving
Repairs/upgrades to existing storm drainage infrastructure
Upgrading select traffic signal equipment at Fair Oaks Blvd., Arcadia Dr. and Sunrise Blvd.
At the Fair Oaks Blvd. and Greenback Ln. intersection:

Reconstructing/realigning sidewalks and ADA compliant curb ramps on all four corners to eliminate painted pedestrian islands, shorten the pedestrian crossing distances (north - south and east – west) and improve overall safety and mobility at the corners
Installing new pedestrian push buttons and posts at all crossing points
Relocating the Pedestrian signal heads to align with new crossings

Installing updated ADA compliant curb ramps at remaining intersections within project as needed
Installing new traffic signal communication equipment
Project Status:
Construction commenced on Monday, March 14, 2022 with an estimated completion date in August of 2022.
Street repaving will begin Sunday, June 5, 2022. We anticipate 6-7 days of night work paving from 8:00 PM - 6:00 AM. During this time there will be limited access to businesses. The City and contractor are coordinating with the appropriate agencies affected by the scheduled construction. Remaining work includes repaving at the intersection of Fair Oaks Blvd and Greenback Ln, median work, and striping. Please use caution while commuting in the area and follow all traffic control signs.
The City will work with the contractor to mitigate impacts to businesses along the corridor, which includes temporary traffic control and some night work. There will be select periods of time where two crews are working, one during the day and one at night. Anticipate commuter impacts Sunday, March 20, 2022 - July 5, 2022 from 8:00 PM - 6:00 AM AND 8:30 AM - 3:30 PM.
To help alleviate traffic and make the job go as smooth as possible, please:
Use alternate routes
Obey speed limit signs
Watch for workers
Limit trips
For questions about construction impacts, please contact our construction management consultant, Psomas, via Dan Albright at dan.albright@psomas.com.
Periodic updates will be made to this page as more information becomes available regarding the schedule of work.
Page last updated June 10, 2022.